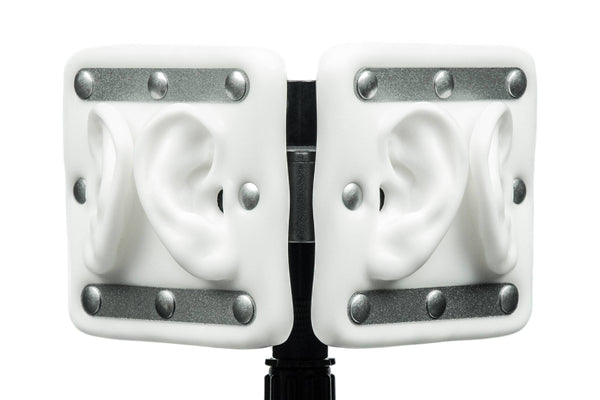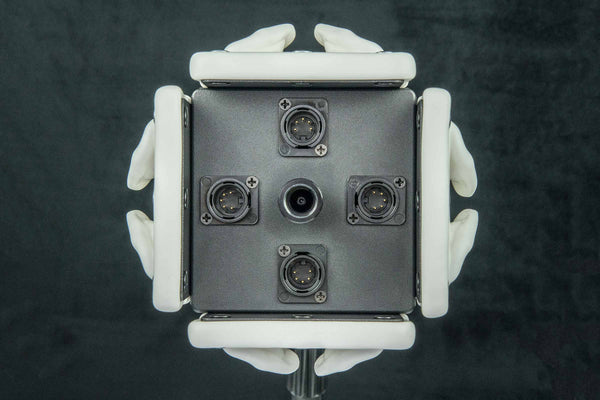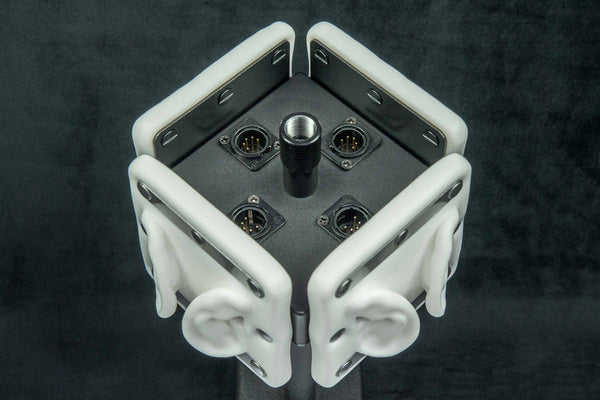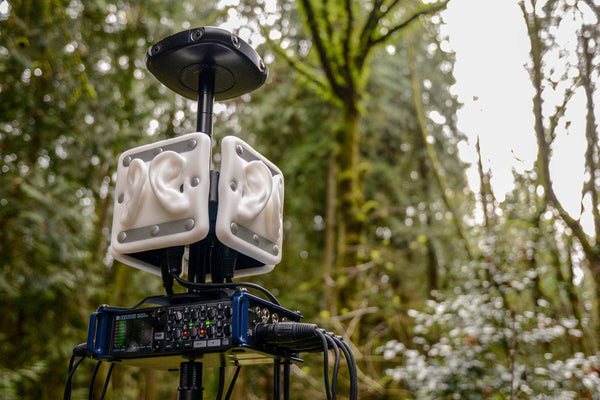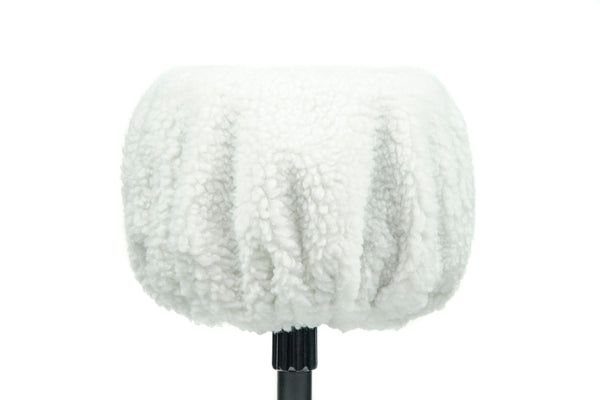 Omni Binaural Microphone
The Omni model has been discontinued. We are still providing support to current owners.
The 3Dio Omni binaural microphone is specifically designed to provide professional binaural audio for Virtual Reality & 360º camera applications. It consists of 4 pairs of ears, each pointed at 90 degrees from the adjacent pair. This provides a single point, 4-position binaural perspective of any audio environment.
The Omni Binaural mic captures stereo binaural audio from 4 different directions. 0 degrees, 90, 180, and 270 degrees, corresponding to the 4 different binaural angles (ear pairs) around the microphone. The microphone is an 8-channel microphone, but it is useful to edit and mix the output of the microphone in 4 pairs of stereo binaural tracks. 90 degrees being clockwise, or 3 o'clock.
Synchronizing Omni Binaural audio to a 360 video during playback only requires a simple volume control script, which is provided for download HERE (a Unity example in C#). This is typically implemented in a custom VR video player app. This particular script works directly with Unity for demonstration purposes, but can easily be ported to any other language that supports audio playback with volume control. The script plays all 4 Omni stereo binaural tracks in sync, while adjusting the volume of each based on the user's head azimuth rotation angle. The user essentially only hears a blend of 2 of the 4 tracks at any given time. The script crossfades between the Omni binaural tracks using an equal power crossfade algorithm. The download zip file also includes some example Omni binaural tracks to test with.
To record the output of the Omni microphone, we recommend an 8 channel recorder with 48V phantom power on each channel.
The Omni Binaural microphone is ideally suited for adding immersive binaural audio to your 360 degree video production. The Omni Binaural mic can also be used to provide binaural localization/orientation freedom for audio engineers. Simply place the mic where you want it, hit record, and binaurally/positionally mix your audio sources in post.
Microphone Capsules
The Omni Binaural microphone comes standard with 8 matched hi-sensitivity small diaphragm omnidirectional microphone capsules.
Mounting
The Omni binaural microphone comes standard with a 5/8" microphone stand adapter installed in the mounting base. This microphone stand adapter is removable. The mounting base of the microphone has a 1/4"-20 female thread mounting hole that can be connected to a hot-shoe adapter or used to mount directly onto a tripod or grip handle. There are two mounting bases, one on the top and one on the bottom of the center chassis of the microphone.

Unity Script and Audio Download
Download a zip file containing a Unity 3D script controller for playback of Omni Binaural tracks, as well as example audio files recorded by the Omni Binaural microphone.
Click HERE to download the Unity 3D script controller.
Outputs
The output of the Omni binaural mic is a set of four 5-pin XLR connectors. Each connector is associated with the ears to the respective left and right. You can use the splitter cables (included) to break out the left/right signals to connect to your 8-channel preamp, or to 4 individual audio recorders. The outputs require 48V phantom power.

Cable
Every Omni microphone comes with four (4), 5-pin to dual 3-pin XLR splitter cables providing a total 8 XLR outputs. The cables are 10ft in length.

Case
Every Omni microphone comes with a custom made, hard shell carrying case for easy transport and safe storage.
Shipping, Fulfillment & Delivery
We are a small company and strive to fulfill orders as quickly as possible. During busy times, please allow up to several business days for order fulfillment. International Shipments (delivery address outside the U.S.) may be subject to import duties, value added taxes (VAT), and long customs clearance times. Tariff rates vary from country to country. 3Dio does not collect VAT on behalf of the customer. 3Dio is not responsible for payment of import taxes. Please check with your local customs agency for rates and more information.
Specifications
Dimensions: 7.76" x 7.76" x 5.12" | 197mm x 197mm x 130mm (WxDxH)
Weight: 3.62 lbs | 1640g
(Microphone and accessories shown are sold separately)
| | |
| --- | --- |
| Mic Specifications | |
| Directional Pattern | Omnidirectional |
| Frequency range | 60 Hz - 20kHz |
| Sensitivity | -28±3dB at 1kHz (0dB=1V/Pa) Rl=3.9KΩ, Vcc=5V |
| S/N Ratio | 80 dB at 1kHz |
| Max. SPL, peak before clipping | 122 dB SPL (Typ.) at 1kHz Distortion level 3% max |
| Output impedance | 2.4k Ω ± 30% at 1kHz (RL=3.9k Ω) |
| Operating Voltage | 5V (3V~10V) |
| Microphone diameter | 10 mm (0.39 in) |
| | |
---